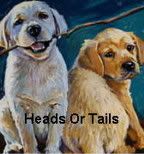 I have been watching the Heads and Tails blog trying to figure out how this thing works.
I am kind of new to the blogging thing, anyway. But real new to memes.
OK, so, a word is given and a post is made around that word...Do I have that right? It can be photos or words or whatever?
OK this weeks word is "tune".Make any kind of post using the theme/prompt "Tune."

Well I thought and thought...this is certainly hard. I am really not tuned in enough, I guess, to get it.. I am not even tuned in enough to know what a MEME is.
I tried to think about the word TUNE and I really didn't feel that it ("tune") is very relevant in my life. But, then I realized that even though I am apparently tuned out, I have to sometimes be tuned in, tuned out, out of tune, and/or in tune, every day of my life. Every day I listen to a tune on the radio or on my PC. Occasionally, I hum a little tune while I piddle around the house. Didn't the dwarfs whistle a happy tune? Didn't Yoko sing completely off tune? And isn't Donald Trump completely out of tune with the world of hair design? Or maybe that would be " touch " instead of tune, which is a whole other topic!
Everyday, someone is tuned in to Oprah. On any day I will tune out Larry King.
If you play an instrument you have to have it tuned sometimes. If I play an instrument, I guarantee I'll be out of tune whether its been tuned or not.
Well, now this may not be what you had in mind for the heads post. So stay tuned, maybe next week I'll get with the program and figure out what to do with the Heads or Tails word for the day. So see you then.
In the meantime, I'll be taking my car in for a tune up.

You are welcome to critique my use of the heads and tails anytime. I never quit learning...sometimes I am just a bit slower than I used to be, though! :)
OH, and BTW, WHO is Mr Linkie and where do I go to meet him :)