Heads Or Tails #95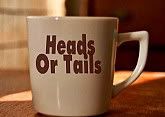 The theme/prompt for THIS week, June 16, is:
HEAD

S
- Lost
*OR*
TAIL

S
- Found
Make any kind of post using either theme/prompt. You can even use both.
For some reason the only thing I could think of was Lost AND found. And immediately this came into my mind.
"Amazing Grace, how sweet the sound,
That saved a wretch like me....
I once was

lost

but now am

found,


Was blind, but now, I see.